Dr Jean-Louis Papineau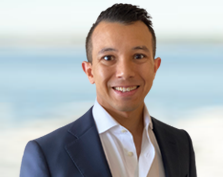 Thank you for taking the time to learn a bit about me. I am a Perth raised Orthopaedic Surgeon who cares deeply about providing an individualised approach to patient care. I believe in treating the whole person and not just the condition and will work hard to optimise patient outcomes through both non-operative and surgical strategies.
I am a very proud husband and father and spend most of my time outside of work chasing after our 2 beautiful children.
Education and experience
My secondary education was undertaken at Corpus Christi College. From then on I attended the University Of Western Australia, graduating in 2009 with a bachelor's degree in medicine and surgery with honours. I received the Goatcher award as Royal Perth Hospital's intern of the year, and moved through residency into advanced Orthopaedic training here in Western Australia. I have received a broad orthopaedic education but have always been drawn to lower limb surgery and orthopaedic trauma. Following completion of my surgical training, I worked in the hip & knee reconstruction and deformity correction unit at Royal Perth, and was then given the opportunity to undertake a further sub-specialist fellowship under the guidance of Professor Leo Pinczewski at the North Sydney Orthopaedics and Sports Medicine Centre. Here I was able to focus on all aspects of knee surgery including joint replacement, ligament reconstruction and limb re-alignment procedures. I have returned to Royal Perth Hospital and Coastal Orthopaedics as a Consultant Orthopaedic Surgeon with a focus on orthopaedic trauma, limb salvage surgery and elective hip and knee surgery.
I consult privately with Coastal Orthopaedics at our Claremont and Murdoch locations.
My subspecialty interests are
Replacement surgery of the knee and hip
Sports knee surgery including ACL and multi-ligament reconstructions
Patellofemoral stabilisation surgery
Arthroscopic knee surgery
Orthopaedic trauma
Correction of lower limb deformities
Teaching
I am proud to be actively involved in supervising registrars through the public hospital system who are completing their advanced surgical training in Orthopaedics through the Australian Orthopaedic Association.
I look forward to meeting you and helping you achieve your treatment goals, whether it be treating a longstanding bone and joint deformity, living life without pain or returning you to the highest level of sporting performance possible.